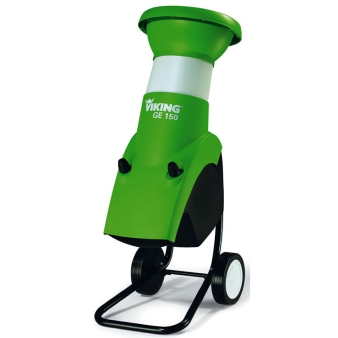 Viking GE 150 Electric Shredder
Stock:
These well-designed shredders provide high shredding output of flower cuttings, vegetables, leaves, bushy twigs and branches of average thickness.

VIKING are the conventional garden shredders for processing large quantities of garden waste such as flower cuttings, vegetables, leaves and both bushy and thin twigs. A sound proofed feed chute and low-vibration materials ensure a very quiet operation. The sharpening intervals are extended due to easily reversible cutting blades. Modern, corrosion resistant materials ensure reliable operation and long life.

VIKING shredders are equipped with no-voltage off switches as standard ensuring user safety at all times, this prevents automatic reactivation after reinstatement of the power supply in the event of power cuts or trips.
Motor voltage: 230
Nominal output (KW): 2.5
Rpm: 2800
Tool: Multi-cut 150
Branch thickness diameter (mm): approx 30
Housing: polymer
Appliance height (cm): 116
Weight (kg): 24
Customer reviews
---
No customer reviews have been written for this product yet.